Camp Beagle
It's weird how you do things completely the opposite of what you have been doing all along, and things wind up turning out just fine, even better sometimes. You start off by drinking and going out more. You then have a horrible, hot, hangover ride the weekend before…one that you have to cut short. You then get sick, leave work on Monday, and don't come in on Tuesday. Get meds from the doctor on Wednesday. Ride for 30 tempo minutes on Thursday. Pre-ride saturday for 1.5 hours, going pretty damn hard. Then drink a beer that night. It was all-natural though.
Maybe that's the formula made for a win at Camp Eagle. Granted the big 3 from the spring season weren't there (wally cat'd up to open class), but screw that, that's just the haters talking. A win is a win. :P
Lined up in the 2nd row at the start. Camp Eagle start is excellent, because there's enough space and plenty of climbing to thin out the stampede before reaching the single track. It's not as nervous, as high-speed, and as important to get a great start as say, a Waco, Double Lake, or Huntsville. Gun went off and I didn't need to take too many chances to pass a few ppl before the start. And it's a testament to each of my fellow racers' skills that I can actually overlap wheels (if I actually find myself needing to, had to do that w/Sisk as 4 of us shared 2 grooves in the fire road), and/or ride inches from someone's rear tire and not have them swerve like drunks or touch their brakes like sissy drivers who slow down when a plane passes overhead.
Anyway, I got to the base of the climb in the top 10 or so. There were 2 lines that could be taken, and I did my best to not expend too much energy trying to jump around ppl, crossing over the loose stuff into the other groove. I did it when I needed to, but I had to fight the urge a couple of other times, especially when I got to 3rd and was on turner's wheel. Jimmy had gotten to the bottom of the climb first, and had proceeded to just start gapping the field. The guy in 4th tried to accelerate around Turner and me by riding over the rough stuff into the right-hand groove, but the problem was we were already going pretty hard and he had to go around 2 racers. I was about to do the impulsive thing and follow him, but I knew I didn't have to get to the top of the climb first, because if you're feeling good, you can always go around at the top as you accelerate over the hill and it opens up pretty wide. Anyway, he petererd out and wasn't able to go around both of us, and hit a rough patch in that line. Got to the top, kept up the hard effort, and accelerated to get around turner.
Made it to the single track in 2nd, and closed the gap to 1st by the end of the first downhill section. We started catching expert 19-29s by the time we got to the 1st creek bed. Camp Eagle is one of those hot, technical races (think old Kelly Creek, Flat Creek) where rider differences (legs and skills) are exposed big time. It sometimes becomes a race of survival, and the time gaps get big.
Anyway, as soon as we got to over the bridge, and especially on the open field, jimmy pretty much rode away from me. I saw that I had gotten a good gap on the rest of the field so I knew the form was good, so I just settled into my own pace and rhythm. It had been a long time I had been in a top 3 position so I just kept it steady through the remainder of the 1st lap, trying to protect my position.
It wasn't until the start of the 2nd lap and I got to the base of the long fireroad climb that I saw Jimmy again. He was about ¾ of the way up, as I started the climb. Up and over, descended, then caught Quintana on the technical climb back up. That's when he let me know I was pretty close to 1st, even though I thought I was still a minute back. It wasn't until further down the trail on a turnaround that I saw I was only about 10 seconds behind him. Caught him on the descent to the creek bed, and passed him without too much trouble and rode away from him during the creek bed section.
At that point, I thought I was sitting pretty for the rest of the race, judging by how I had closed the gap in a relatively short distance. However, as soon as I got out, and over the suspension bridge, I noticed the legs tightening up and wanting to cramp. Granted this was only about 1:30 into the race, and I still had close to an hour to keep racing. I wound up having to back off, and I downed 2 endurolytes I was carrying, and the rest of my water. I was drinking a lot of water, but it wasn't enough…not sure what was up with that. It was hot, but I was still surprised.
As soon as I got to the field, I tried to shake the legs loose, but the cramps really wouldn't go away, but they were not completely taking over, which was a good thing. I saw Jimmy was closing back up, and was worried he would see me cramping. So I did my best to just pedal in a manner that wouldn't show anything. Tried standing out the pedals, and cramps stuck around. They were weird though, it was just like the muscles stayed at a constant tension, but weren't rolling up completely into a ball, which isn't how it's worked out for me before.
Jimmy caught me out in the open field so not wanting to pull him along, and wanting to hide my condition, I eased up ever so slightly, trying to goad him into passing me, which he did. I just did my best to stay right on his wheel at that point. I expected him to just completely ride away from me at that point and through the feed zone. But he must have not been feeling too great either, since he was never able to stick it to me. But it didn't do much good, cuz I couldn't stick it to him either. From that point on, every single effort I made had to be very measured.
Stayed on his wheel, through the feed zone, down the jump, and to duck trail. I finally went around him as we rode along the rough and rocky river bank, where it opens up, but just did it to do some share of the work, and since I was feeling a bit better after pouring a whole bottle of water all over my head, back, and legs. Muscle cramps subsided a bit since we were mostly on the flats, and had just finished descending, but I felt in my head that he was easily going to ride away from me when we crossed the road and started the switchback climbs.
But it never happened. He would stay steady with me on the steeper stuff, but then I'd gap him slightly over the crests, and the short rolling downhills. That's when I realized I still had a chance…so I concentrated as hard as I could on squeezing every slight bit of momentum I could out of every downhill and subsequent flat section. I took leaps of faith into every downhill corner, fighting the urge to grab brakes, and just trusted physics and my bike. I have to hand it to the bike setup, i haven't felt that in tune with a bike and that good technically ever. (thanks for "goading" me into the new bike, Cody! which was also the catalyst for me getting the new SID as well.)
Every uphill still hurt my legs like a mutha, and by this time my right hand had also started cramping, as well as my right calf occasionally. You just basically squirm around, sit, stand, shake a leg, find any different motion/position that your leg muscles agree with. I was confident that if I could make it to the top of the "texas" in 1st, I would ride away from him on the rolling and downhill sections.
I put about 15-20 seconds on him after the first set of climbs and subsequent downhill, but he then caught me at the turn off up "texas", as I had to dismount and immediately cramped up my right calf. You know when you're a little kid and you're in all this pain, and you want to cry like a baby, and you want to tell everyone, "it hurts, it hurts! wahhhh!", but your dad tells you to suck it up, and you just make this really pathetic face trying to hold it all in? Well I'm pretty sure that's the face I made as I turned around the switchback to face him as he was riding what I had just walked.
Luckily things flattened ever so slightly, but stayed technical, so I put a few seconds back on my lead. That's until I saw poor Noel fixing a flat by the side of the trail. I have no idea what I said to him, I think I expressed my condolences or something, but I honestly can't remember since I wasn't in my right mind. Anyway, did that sharp turnaround, saw Jimmy about 5 seconds behind me. I was almost to the flatter, technical sections of the top of "texas", and I just had one more uphill ledge section to get up. I rode it all, did the switchback and saw Jimmy walking.
Took one last endurolyte with my last sip of water on the last steady climb up to the top of "texas."
From then on, it was just pedal pedal, but not too hard, and keep momentum going. Accelerate before ledges and get up them without having to torque the legs. During the off-camber descending section, I started to catch a lot of sport riders, and was a little worried about traffic slowing me down, but everyone was extremely accommodating, even though my "on your left" calls were a little more urgent that usual. "race leader" works amazingly well. I need to use that more often, even when I'm in 13th place.
After the off-camber sections I ran out of water (again), rolled through the rolling downhills, but every rise in the trail got more painful. I wasn't able to pedal very hard, but was very lucky that it was mostly downhill or flat.
Finally made it back to the screen shelter area, and that's when I started thinking I might actually win this thing. Was VERY careful through all that stuff, going down was the last thing I wanted to do at this point. Made it through the dirt jumps, turned around and couldn't see anyone. Had the biggest smile and goose bumps (that was probably the onset of heat stroke though) as I rode my legs out through the finishing section and through the final turn.
courtesy of www.bobcat13.smugmug.com
I wound up only winning by 11 seconds. I felt as bad after this race as any other race I've had. Kept hacking up crap, and couldn't eat for about an hour after race. I was able to drink 2 beers first though.
Sorry Cody, I couldn't find my Team Hammerhead Bikes shirt. But I at least wore a shirt, unlike Dirty D.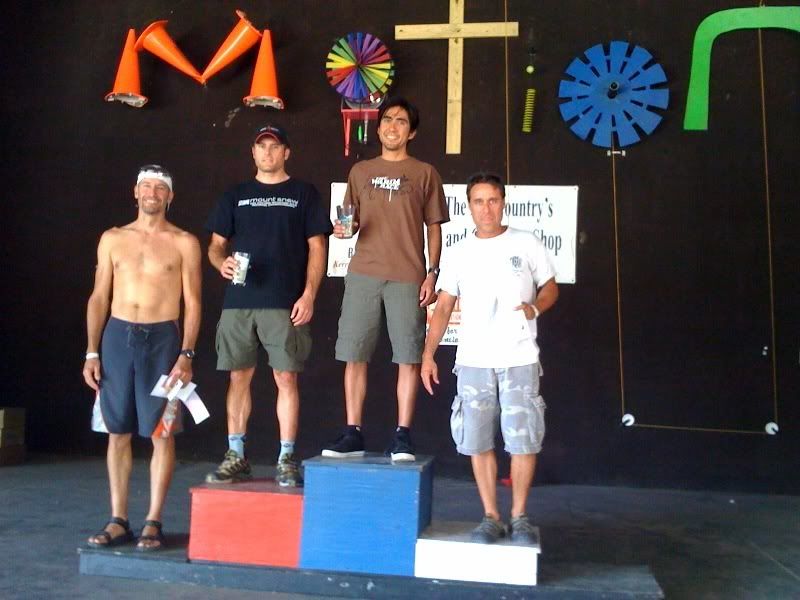 p.s. missing 4th place, jeff turner, who broke his hand. Jordan Cheney, who he rode in the same car with him, dislocated his shoulder. can you believe that?!